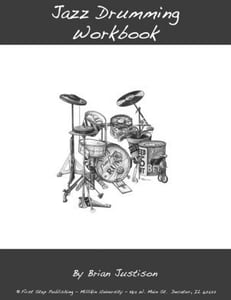 $

10.00
Jazz Drumming Workbook, 2nd Edition by Brian Justison covers a proven jazz drumming method based on the teachings of the late Alan Dawson. This resource seeks to enhance the student's capacity to develop increasingly complex accompanying and soloing concepts based on rhythmic themes provided for each unit. This second edition includes a newly revised 3/4 section.
Click "Add to Cart" then specify the number of copies needed on the next screen.
Within 24 hours after checkout, you will receive an e-mail from payment@firststeprecords.com with an attached pdf of the piece. Please contact publishinginfo@firststeprecords.com if you have any questions regarding your purchase or the printing of your copies.